WordPress Maintenance Care Plans
FOCUS ON RUNNING YOUR BUSINESS
…and Let My Care Plan keep your website secure and running smoothly.
Your Website is Indispensible
You already know how important your website is to your business. And, you know that for it to meet the objectives you desire, it has to be running smoothly. The critical question is do you have the time it takes to perform all of the WordPress maintenance tasks that your site needs?
Your Website is vulnerable
All software needs to be updated on a regular basis,to keep it secure and performing well. If you are not monitoring, updating, and backing up your WordPress site, then it will become increasingly prone to a range of increasing security and performance issues, such as:
W

Out of date websites are an easy target for hackers

W

The performance of your website diminishes

W

User experience gets worse and deters visitors

W

Google decreases your rank, with possible blacklisting

W

Stress increases when your site breaks and you realise you have no back up

W

Out of date websites are an easy target for hackers

W

Hacked or broken sites are costly to your bank balance, as well as your brand

W

Issues arise more frequently, costing you more to fix in the long run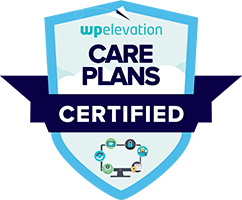 Whilst no one can promise that you will never be hacked, my Essential Care Plan includes everything to prevent that from happening. The range of benefits include:
W

Up to date websites are not an easy target for malware

W

Website performance remains smooth and fast

W

User experience is consistently good 24/7

W

Google ranks you higher because it trust secure sites

W

The time and energy you save can be invested in running your business

W

Less costs that would accrue due to multiple repairs

W

Peace of mind knowing that your investment is being well taken care of
I have been certified by WP Elevation for Website Maintenance Care Plans, which means I have the know how and experience to take  great care of your WordPress website.
Get these Essential Tasks done regularly for you
Let someone with knowledge look after your website, whilst you look after your business
Software Updates
Have peace of mind that your website software is secure and all up-to-date.
Full Backups
Relax! Its never the end of the world. Your site can easily be restored.
Malware Scans
Constant security scans help identify problems and to keep intruders out.
Uptime Monitoring
24/7 monitoring makes sure that your website is always available.
Better Performance
Regular cleaning and optimisation of your site to keep it running smooth and fast.
Small Fixes
Email support when you need it, to make small changes made to your site.
Monthly Reports
Get monthly reports that allow you to rest assured that its all being taken care of.
$49 AUD
PER Month (or $1.58 per day)
Z

Monthly Full OffSite Backups

Z

Monthly Performance Check

Z

Monthly Security Check

Z

Monthly Plugin Updates

Z

Monthly Theme Updates

Z

Core WordPress Updates

Z

Fix Broken Links

Z

Monthly Database Optimisation

Z

Limited Tasks (30 Minutes per Month)

Z

Detailed Monthly Report

Z

Cancel Anytime
How long does it take to set up?
Once you've signed up and provided your site's login credentials, your plan will be up and running within 1-2 business days.
What are 'Limited' Tasks?
Limited Tasks include content (Text and images) updates only. I'll take care of anything that can be done within 30 minutes.
Does monthly support time rollover?
The Essential care plan is a monthly plan, which basically reserves and prioritises your place in the queue each month, and therefore it does not rollover.
What if I need more support time?
If you have a task that requires more than 30 minutes, I will send quote for you to approve separately from your plan. Once I receive your approval, you will later be charged for the additional time, based on my hourly rate, $90.00 / hour (AUD).
What happens if something goes wrong on my website?
The Essential Care Plan is a form of preventative care. If your website does experience a major problem, I'll be there communicating with the web host on your behalf.
I cannot promise your website will not be hacked but can promise I will do everything in my power to prevent it, as well as assist in the restoration and cleanup of the website with one of the backups.
Can I really cancel anytime?
Absolutely. Whilst I would be sorry to see you go, I don't lock anyone into a contract. You are under no obligation. Request a cancellation via email and I will let you know what licenses you will need to purchase and will immediately stop the next due payment.