You need a WordPress website that sets you apart from your  competition and generates leads and sales.
WordPress is the Market Leader
WordPress is an award-winning content management platform that now powers over 40% of all websites on the internet. It's the most used platform for business's who want to manage their own site content.
It is a robust and extremely versatile platform, that can form the basis for any type of website you can think of.
Manage Your Own Content
WordPress is the world's most used  Content Management System (CMS), and it will allow you to easily 'manage content'.
Once you sign on, you'll be able to easily  add, change or remove text, images, videos – whatever –  whenever and where ever you wish.
WordPress Helps with SEO
No matter how stylish or pretty a website, if it  doesn't rank highly in search engines, particularly Google, then your potential customers will never find it.
WordPress is built from the offset with SEO (Search Engine Optimisation) in mind. It uses simple and consistent code that is easy for Google to read.
WordPress is Flexible & Extendable
WordPress offers easy integration with thousands of extensions and plugins – all of which give you complex functionality without having to spend a fortune.
WordPress is Mobile Friendly
WordPress will allow you to craft a responsive mobile friendly design, that intelligently adapts to work beautifully on desktop, tablet and smartphones.
Websites that don't work well on mobile devices, will lose you customers and credibility, because it's just too hard to navigate on a non-mobile friendly website on a small screen.
In addition, Google now has a "Mobile First" indexing policy. This means it will rank mobile friendly websites over those that are not, in it's search results.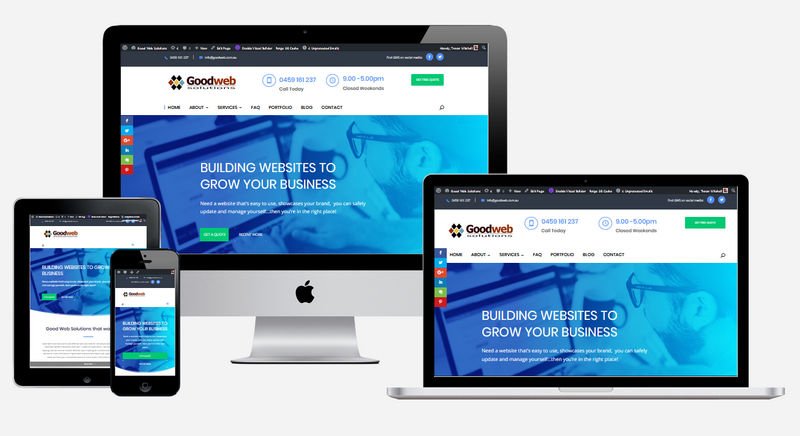 Additional WordPress Services
Website Security & Maintenance
Once your website is launched the core software and any plugins used on your site, will need to be updated regularly to benefit from enhancements, bug fixes and security updates.
The Essential Care Plan provides ongoing behind the scenes support that will help to maintain your website's security and performance, long after the initial project is complete.
Is WordPress Right for You?
WordPress for Small Business
WordPress is adaptable, easy to use, scalable and extremely flexible. It allows site owners and administrators to easily update and change site content with the click of a button. WordPress is a great fit for Startups and Small Businesses.
WordPress for Bloggers
Blogging was what WordPress was originally created for. is adaptable, easy to use, scalable and extremely flexible. Adding a blog to your website keeps your visitors engaged with your business, increases retention, leads and sales.
Let's Get Started
If you're ready to get going click the button and let's get underway!